Metaverse Hackathon at Bosch IoT Campus Berlin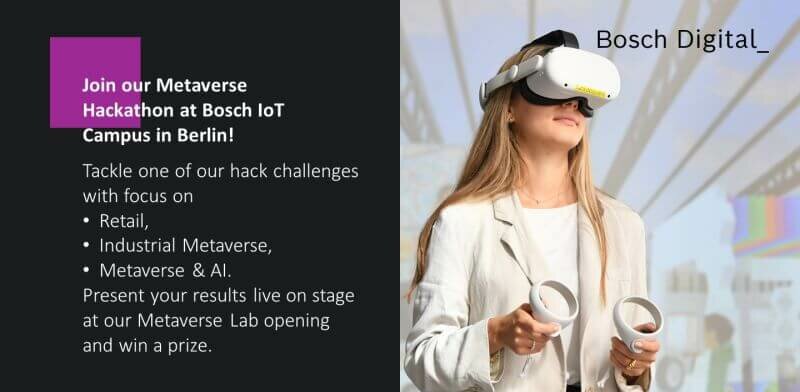 Metaverse Hackathon at Bosch IoT Campus Berlin
529
529 people viewed this event.
Call for hackathon
Alongside the Metaverse Lab opening event on September 13, 2023, we have planned a hackathon, inviting Metaverse enthusiasts of all backgrounds both from the ecosystem and Bosch. The hackathon will start on Monday, September 11 in the afternoon and end on Wednesday, September 13 in the afternoon with the live result presentation on stage at the opening event. 
Participants not only have the opportunity to be among the first to gain insights into the Metaverse Lab; they can also network with industry experts at the event. Additionally, winning teams will be rewarded with a prize.
The following hack challenges will be tackled: 
Retail:

Imagine the future of retail. Try out and experience products prior to purchase by extending shopping to your social circles in real time as you browse.
Industrial Metaverse:

Enable collaboration between geographically dispersed teams through the Metaverse by taking advantage of industrial digital twins to design, simulate, and visualize the manufacturing process.

 
Metaverse & AI:

Ramp up the Metaverse with AI technologies and frameworks. Generated worlds? Check. Highly intelligent and expressive AI avatars? You bet. Explore what AI can do for the next evolution of the Internet.

 
Additional Details
Weiterleitungsevent - Yes
Top-Event (Bezahlevent) - No