Grads Meet Up – Cologne Edition
Registrations have closed.
Top Event!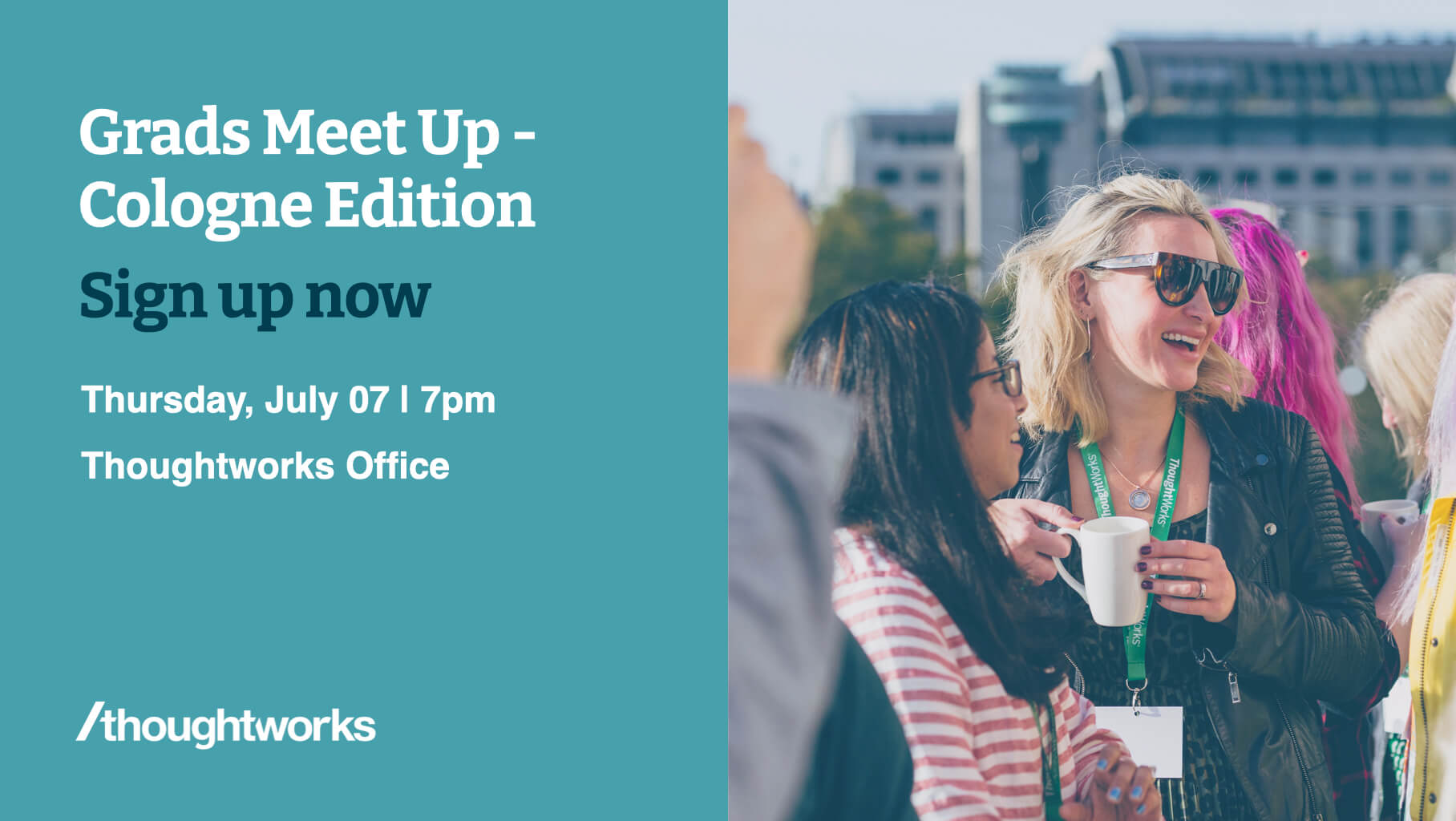 Grads Meet Up – Cologne Edition
1174
1174 people viewed this event.
Grads Meet Up – Cologne Edition July, 07 | 7pm
Future Grads, be ready for our exclusive Grads Meet Up – Cologne Edition on 07.07. at 7pm in our Cologne Office in Ehrenfeld.
Close the semester with a look into your potential future at Thoughtworks, a round of cool people and pizza!
What to expect:
– 6:30pm – Welcome drinks
– 7:00pm – Introduction into the Thoughtworks University – by former grads Clara & Kjeld
– 7:30pm – Tech Radar Vol. 26 – by Wolf Schlegel
– 8:00pm – Pizza & Drinks
About the Thoughtworks University:
The one-year program begins with a three-week intensive learning program in which our new starters learn and apply the tools and practices from everyday lives. This is followed by monthly workshops on specific topics for a year while they also start their first project in parallel. Our Grads get to know the principles, practices and skills that are required to create working software, but also the TW values, the company culture.They also have the opportunity to exchange ideas with many international colleagues and start building up their network at TW. Former Thoughtworks University Grads Clara & Kjeld will share their experiences after graduating and starting at Thoughtworks! More info on the Thoughtworks University.
About the Tech Radar:
Thoughtworkers are passionate about technology. We build it, research it, test it, open source it, write about it and constantly aim to improve it — for everyone. Our mission is to champion software excellence and revolutionize IT. We create and share the Thoughtworks Technology Radar in support of that mission. The Thoughtworks Technology Advisory Board, a group of senior technology leaders at Thoughtworks, creates the Radar. The Radar captures the the global technology strategy for Thoughtworks and the technology trends that significantly impact our industry in a format that provides value to a wide range of stakeholders, from developers to CTOs. The content is intended as a concise summary. Wolf will give you a short intro into the Tech Radar followed deeper insight about 2-3 blips. More info on the Tech Radar and the latest edition.
Sign up now and join us for a chill evening that could be the start of your extraordinary career at Thoughtworks!
Additional Details
Weiterleitungsevent - Yes
Top-Event (Bezahlevent) - Yes